---
Cafe Connecting…. with South-East Asia!
Cafe Connect played host to a distinguished group from the Province of South East Asia last week.
The group, led by Archbishop Bolly Lapok, were in England to mark the closure of two missionary organisations that had proclaimed the gospel in the far East and to renew links with the Diocese, including a whistle-stop tour of a few pioneering church projects as well as a traditional service of Evensong in the cathedral.
The Cafe was packed out for an hour in the afternoon by over thirty visitors from churches in South East Asia, with opportunities to hear from Peter Hubbard, Phil Cansdale and Ollie Abbott about the work of the Cafe, and what is going on across the parish as we "live for Jesus, love one another and set a table for the world."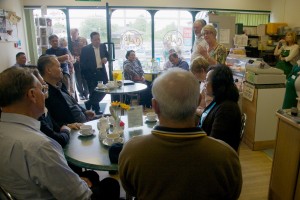 The Province of South East Asia covers twice the area of the Church of England but comprises just four dioceses: Singapore, Kuching, West Malaysia and Sabah. Oversight of Anglican churches in Cambodia, Indonesaia, Laos, Nepal, Thailand and Vietnam has been passed from the Archbishop of Canterbury to the diocese of Singapore, while the other three dioceses cover the parts of Malaysia.
"These exchanges are for mutual learning and encouragement" said Archbishop Bolly.
Recommended Posts
February 23, 2022
March 29, 2019
February 22, 2019