---
Christmas starts here?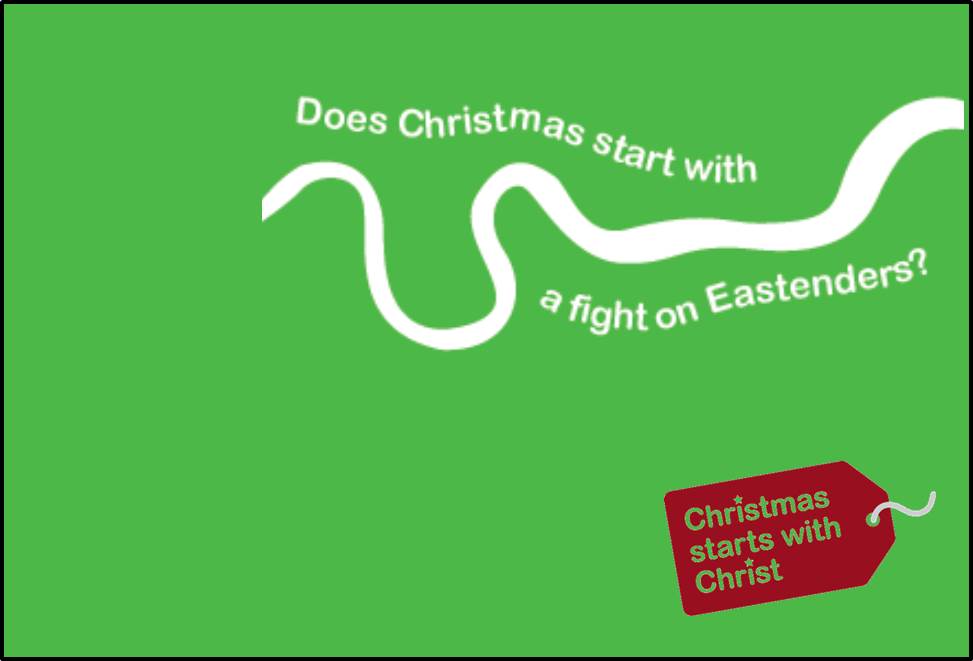 We're asking an important question again this December. When does Christmas start?
In department stores it starts in mid-July. You start to hear 'festive tunes' in other stores from the end of the summer. The doors open on Santa's grotto.
In October we see Christmas ads on the telly, but the retailers are out of step with their customers because for most people the season starts on December 1st. That's when it's ok to start writing cards and dig out the decorations from the attic.
Let's not let the High Street set the agenda. We want to be reminding people that Christmas starts with Christ.
The statistics are shocking. Just 12 per cent of adults know the nativity story in any detail and more than one third of children don't know whose birthday we are celebrating. And 51 per cent of people say that the birth of Jesus is irrelevant to their Christmas.
We want to join with thousands of other churches across the nation. Here are just a few things we want to 'wet your appetite' with as we look ahead to Christmas.
In the Picture? Remember last year, dressing up in the nativity play, and getting to be the angel Gabriel after many years of trying? We'll be offering that opportunity again on different occasions leading up to Christmas, and pointing people towards our trinitychurches.org website to download the pictures.
Soul Purpose Christmas is back once again on Christmas Day in the Trinity Centre, offering hospitality and "setting a table for the world" for a number of people from across Shrewsbury. Talk to Fi Iddon if you'd like to find out more.
Carol singing galore, in residential homes, school events, and Christmas services. We've got a few surprises as well, with a new event in the planning on the Meole Estate
Generosity at Christmas, with community giveaways in the café, Christmas hampers, and opportunities to bless others at Christmas.
I'm particularly looking forward to some "Silent Night" carol services. On Christmas Day 1914, fighting ceased in the trenches of WW1 and soldiers from both sides sang the well-known carol "Silent Night" in No Man's land. Some soldiers from the British and German armies even joined together to play football.
100 years on we're going to be remembering this in some of our carol events, with a beautiful resource including special messages from Prince William, and Justin Welby. A few of us are going to be taking part in a Shropshire-wide event at the Shrewsbury Town Stadium. We can't promise a kick-around on the pitch, but it will be yet another way of remembering that "Christmas starts with Christ."
So join us. Pray with us. Get involved… and watch this space!
Phil Cansdale
Recommended Posts
September 22, 2023
September 22, 2023
September 15, 2023