---
"Church Actually" May Preaching Series.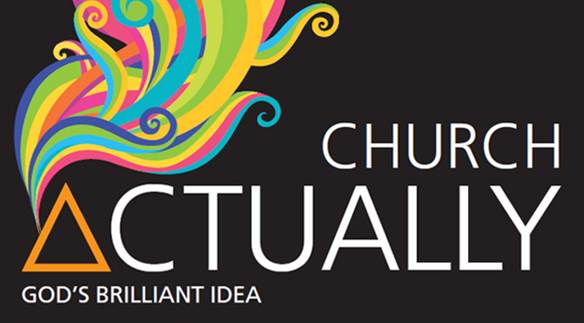 The sermon series in the mornings are on "Church Actually".
One writer described church recently as "God's brilliant idea." Beautiful. Inspiring. Life-changing. Nation-shaping.
And yet – if we're honest – that isn't always how people describe church. I'm reminded of the speaker who was asked "What's the best thing about the church" and he said "the people." "And the worst thing?" "The people…"
During our May morning services we're going to have four weeks called "Church Actually". Using some material from Spring Harvest, we'll be glimpsing two vital questions for the church, both across the world and here locally. Firstly what actually is the church? What is this God-shaped movement of people across history? Secondly what is the church for? What is our purpose?
It is in these two questions – "ecclesiology" and "missiology" if you want the long words – that we can hear again a vision of our common life together.
There are many different images the Bible uses of Church – nearly 100 distinct images according to one writer. Over the four weeks we are going to look at four of the most common images:
Help them love! The Church as the body of Christ
Help them shine! The Church as the people of God
Make them one! The Church as the bride of Christ
Give them power! The Church as the community of the Spirit
I'm going to speaking all four weeks at Holy Trinity, making the most of the opportunity to share something of my heart and passion for who we are here locally; at Christ the King Peter and others will develop similar themes. I hope we can celebrate together all that is good and beautiful and inspiring about this movement of people. And reflect on where the world could perhaps see more of God through us, and continue to be transformed and renewed into the likeness of Christ.
Phil Cansdale
Recommended Posts
September 22, 2023
September 22, 2023
September 15, 2023