---
ChurchLive – broadcasting this weekend

At Holy Trinity Meole Brace we're taking part in ChurchLive this Sunday morning, broadcasting our 9am and 1045 services on the web. The 9am will be a more traditional service, and a more contemporary feel at the 1045.
The general concept of ChurchLive is a year-long commitment from the Church of England to be live-streaming a different service each week. It's a way of welcoming people who can't – or won't – make "live" church on a Sunday, and helping them to be part of the experience. For some they might not be able to get out because of illness etc, for others it might be an insight into church in a different country or culture.
This Sunday morning sees Charlotte Gompertz speaking to a new-found world audience. Charlotte was ordained into the church of England only last week, and this is her first speaking engagement as curate in the parish.
Between the two services we'll also be hearing from some of the many children and young people in the parish. This Sunday sees a "Secret Church" event for 5s-11s, and other activities for young people. We'll also be hearing from the Windfall Project, a project for adults with learning difficulties based in the Trinity Centre.
The 1045 service will be led by Fi Iddon, who is currently training to be a vicar, whilst the vicar Phil Cansdale will be leading the 9am. A number of other people will be involved as usual.
There have been an amazing variety of churches featured over the last six months of ChurchLive, including a tent in Glastonbury festival a fortnight ago, an Anglican church in Moscow, and services of all shapes and sizes. About 12,000 people have joined in over the last six months from all over the world, as well as across the UK.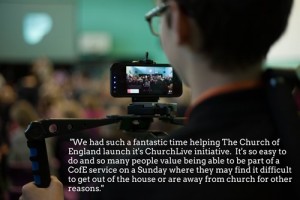 The technology is really simple to use, and is the sort of thing just about anyone can set up – a smartphone, and the "Periscope" app, and off you go. The hope is that churches who have "given it a go" this year will think about doing it more often, revealing not just what Sunday services look like but also an insight into the life of the local church 24/7.
Find out more – and watch – via twitter @ChurchLive.
Recommended Posts
June 18, 2021
June 17, 2021
June 11, 2021