---
Holy Week and Easter 2014 at Trinity Churches
This Easter join us as we celebrate the foundation of our faith.
Jesus Christ has died, Jesus Christ is risen, Jesus Christ will come again!  Hallelujah!
We will be marking Holy Week and Easter with a variety of services and events throughout Trinity Churches:
Services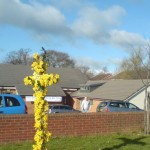 Holy Week Communions in Holy Trinity Church.  7,00 – 7.45pm Monday – Wednesday 14th – 16th April. Each day we will be following the Easter story through a different media (Monday – music, Tuesday – art, Wednesday – film).  Then on Maundy Thursday 17th April, Holy Communion will be at 10.00am, also in Holy Trinity Church
Good Friday services across the parish.  18th April.  9.00am at Holy Trinity Church  and Christ the King, Radbrook.  A reflective last hour of the Cross, 2.00pm at Holy Trinity Church and then 3.15pm at the Church in the Meet Place, Meole Estate.
Easter Day  Starting with a sunrise service in Holy Trinity churchyard at 6.00am (with bacon butties), we then meet at 9.0am,10.45am and 6.30pm (Holy Trinity Church), 10.30am (Chrsit the King Radbrook) and 11.00am (Church in the Meet Place, Meole Estate.
Coffee at 9.00am
Each morning during Holy Week (14th – 17th April), at Cafe Connect we will be showing excerpts from the acclaimed Channel 5 series, 'The Bible'  All are welcome from 9.00 – 9,25am to watch and enjoy a free coffee or tea.
Eat and drink in remembrance…
On Thursday 17th April, (7.00pm – 9.15pm) you are invited to the Trinity Centre for a 'seder meal'.  Together we will mark the 'Last Supper' in the way that Jesus and his disciples would have done.  Tickets (with a suggested donation of £4 to cover the cost of food) are availabale by c0ntacting us.
Will you not watch with me?
Starting at the end of the Seder meal, and running until 2.00pm on Good Friday, we will be opening Holy Trinity Church for continuous prayer.  Watch this space for more details.
Recommended Posts
February 23, 2022
March 29, 2019
February 22, 2019