---
It's All About the Book- an evening with Dai and Cath Woolridge
Tuesday 13th October, 7.30pm, Barnabas Church Centre
An evening of song, stories and Spoken Word about how the most shop lifted book in history will be the most important book we will ever read.
(Disclaimer – stealing Bibles is not very Biblical)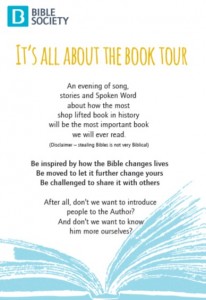 Be inspired by how the Bible changes lives. Be moved to let it further change yours. Be challenged to share it with others. After all, don't we want to introduce people to the Author? And don't we want to know him more ourselves?
A Bible Society Tour featuring… Cath Woolridge of Sound Of Wales and Dai Woolridge of Bible Society and Spoken Truth. The evening will take place at Barnabas Church Centre.
Tickets are £5 each available from the Church Office (01743 362399), or email info@trinitychurches.org.  Alternatively go direct to the Bible Society, phoning 01793 418222 or email contactus@biblesociety.org.uk
Tickets must be booked in advance of this event.
Recommended Posts
December 07, 2023
December 07, 2023
December 05, 2023