---
Meole Brace Community Singing Group

'We laugh as much as we sing; it's great fun and great therapy'

'It's been amazing, my passion for singing has helped reduce my anxiety'

'I can come here feeling as low as low, but when I leave here, I'm on the highest cloud'

'Turns a bad day into a good day'
These are some of the quotes from local residents of our small, but steadily growing community singing group. We meet on a Monday afternoon at the Meet Place on the estate.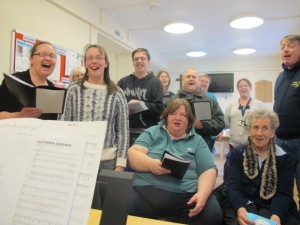 We start with a cuppa and a chat at 1pm before we start to sing at 1:45.
Our currently 'un-named' group have a couple of public appearances over the Christmas period and are looking forward to attending more events in the near future to promote our group. We aim to entertain with a showcase of our talents, as well as acquire a 'catchy' group name.
But what we lack name wise, we more than make for in enthusiasm, and as the quotes suggest, fun. We would love to welcome more members from the community to join us, so if you enjoy the odd sing-a-long to the radio, or whilst doing the homework or simply enjoy a bit of fun and laughter; then this group is for you.
Kelly Wilcox – Meole resident and singer.
Please contact Gordon Lamb 07975601282 for further details.
Recommended Posts
November 23, 2023
November 23, 2023
November 23, 2023