---
New Curate at Trinity Churches
As 2016 begins we're thrilled to announce Charlotte Gompertz is going to be our new training curate in June.
Hello all, I'm  Charlotte Gompertz and I'm  really excited to be coming to Trinity churches as your new curate when I am ordained at the end of June.
I'm married to Adam (who is ordained as well as being a huge petrol head!) and mum to Noah (13 ),  Molly (10) and not forgetting Ripley the Dog (3).  We currently live in Lichfield while I have been doing my ordination training at St. John's, Nottingham and Adam has been a curate but we've actually lived all over, including three years in the Austrian Alps and three years by the sea in Lymington, Hampshire.
I have a background as a mental health nurse and more recently as a youth, children and families worker in various churches around the country. I'm passionate about sharing Jesus through storytelling, growing community, making church a hospitable place for all and supporting those in emotional need. I also have a real love for the Bible and particularly enjoy exploring the tricky bits of the Old Testament as I always find God is in the most unexpected places.  In my spare time, l love watching science fiction movies, laughing, cross stitch, Doctor Who and drinking tea and having a chat with whoever wants one!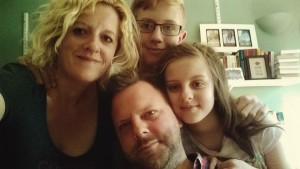 I'm really looking forward to seeing what God has in store for us as a family over the next few years and of course what He has for us a church. I know I've got so much to learn and excited about being part of the amazing team you have at Meole Brace.
Recommended Posts
September 22, 2023
September 22, 2023
September 15, 2023