---
New Youth and Young Adult Minister – Craig Silcock

We're delighted to be announcing that Craig Silcock has been appointed this week as our new Youth and Young Adult Minister. Craig – pictured here along with wife Emily and twin girls Hannah and Bethany (4 months old) – is currently youth minister in Marple.
Craig is due to be moving to Shrewsbury in the new year and beginning his role towards the end of January 2018. So for now let's allow Craig to introduce himself…
---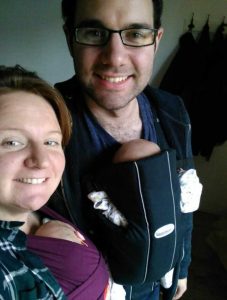 Hello! We are the Silcock family and we are so excited to be coming to live and work with you – the amazing team at Holy Trinity! You might ask – who are we? – here are 5 things we cannot live without!
1. FUN – If it's fun, we're in! We love to try new things, making memories and sharing new ideas.
2. GOD – Our prayer is for God to go before us, for people to see Him before seeing us and for people to hear Him through us.
3. MUSIC – We love listening to new music, reminiscing over old, playing music and we are now becoming experts at harmonising nursery rhymes!
4. GAMES – Whether its frisbee in the park or a competitive game of Settlers of Catan on a rainy day, there is always a way to win (or lose graciously occasionally).
5. LIVING ALONGSIDE – We want to live with and for YOU and the Meole Brace/Radbrook community. We believe in having an open house where people feel comfortable to be themselves – just put the kettle on!
We wish you all a VERY MERRY CHRISTMAS and look forward to meeting you in the New Year!
Love
Craig, Emily, Hannah and Bethany (our 4 month old twins!)
Recommended Posts
September 22, 2023
September 22, 2023
September 15, 2023