---
Reflections on Cefn Lea
These are some of my reflections on Cefn Lea – your reflections may be very different of course and so we do look forward to reading all your feedback forms!
My overall impression of Cefn Lea was that it was an immensely enjoyable weekend, and as I went around and talked to people there, I'm pretty sure that most (if not everyone!) would agree with me on that! For one thing, the weather was absolutely amazing…how the campers must have praised the Lord for the good weather! The site looked beautiful among the rolling Welsh hills, and doing one of the walks on the Saturday afternoon gave me and those on the walk a fine sight of distant mountain and hill ranges! (I am now in awe of Charles Ruxton's detailed knowledge of which Welsh hill is called what!!)
Our speaker, Alasdair Macleod, was excellent I thought: godly, relevant, approachable, real, biblical, engaging…he came across as someone who simply wanted to serve the Lord and us as he gave his talks and met and mingled with so many people from across the parish. He spoke on some of the early chapters in Daniel and related much deep biblical truth to the challenges and opportunities we all face on our Frontlines. I particularly enjoyed thinking through the comparisons between the gym and the church…those of you who were there will know what I'm talking about. And I wrote this line down from something Alasdair said that I felt was really helpful: "Prayer is a conversation with God that offers the prospect of change." I liked that and need to ponder it more!
Many things could be said about what made the weekend special for all ages…from the children's work, to the seminars, to the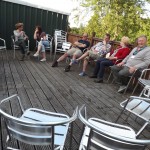 wonderful times of worship, to the meal times where lots of conversations were had, to the youth work, to the relaxation over a glass of wine near the tents, to the 'Trinity Churches Got Talent' extravaganza…! Maybe that's the only time in my life I'll get to pretend to be Alesha Dixon…an 'in joke'!!
But the greater glory goes to God who we now go out to love and serve wherever He has called us to be…I hope the weekend away has encouraged you and inspired you that God has so much more in store for us as we trust in Him and follow Him!
To hear the talks from Cefn Lea click here
Peter Hubbard
Recommended Posts
September 22, 2023
September 22, 2023
September 15, 2023