---
"Ringing the changes" to celebrate 150 years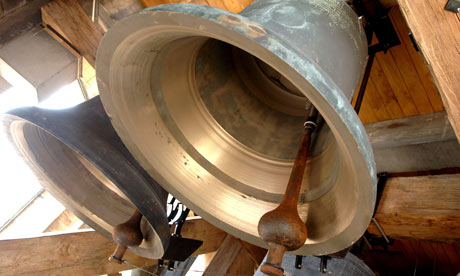 During June our church will be celebrating its 150th anniversary. Actually it is the building which is 150 years old. The church, meaning the body of worshipping Christians, is much older and this is the fourth church building to stand on the site.
The bells are younger. Six were cast in 1969 and the two light treble bells two years later. Amazingly, some of the metal from a 17th century bell in the second church was used in one of the 1969 bells. It is engraved with the original inscription from Psalm 98 : Cantate Domino Canticum Novum or "Sing Unto the Lord a New Song!"
On Saturday 15th June there will be an attempt to ring a full peal as part of the celebrations. We'll start at 10am in the morning, and finish at 1pm. No doubt this will be a delight for many in the community who tell us how much they love the bells. However, you need to know that it will be nearly three hours of continuous ringing. So you may wish to hear some of it but make arrangements to take a break at some stage!
People talk about a peal of bells but the word PEAL has an exact meaning to ringers. It is made up of 5040 changes and is the complete collection of all the different permutations (orders) which can be rung on seven bells. We will be using a method called Grandsire Triples to do this, with the tenor bell sounding last every time.
It will be the first peal to be rung on our bells for nearly ten years and certainly the first since we got the bells ringing regularly in 2014. The Meole ringers have made massive progress in that time but we are not capable of undertaking such a challenge. The peal band on 9th June will consist of three local ringers and five experienced ringers from other towers in Shropshire.
So be warned! Saturday 15th June. 10am to 1pm. BELLS!
Enjoy and Celebrate.
Michael Carding. (Tower Captain)
Recommended Posts
May 26, 2023
May 26, 2023
May 25, 2023