---
Secret Church
We arrived after dark, parking in or walking into an unfamiliar farm yard.
Our venue was the barn ahead but we should not be seen to enter in groups so waited in the shadows allowing each other to approach and enter one by one. At the door to the barn we gave our pass word, 'It's good to be here' and were welcomed in.
So began 'Secret Church' at 9pm on Monday 7th March.
We were there to experience what worship can be like for many of our Christian brothers and sisters in communities where open practice of their faith is frowned upon, banned or even life threatening.
We watched a film from Open Doors about life and worship for the persecuted Christian church around the world with a particular focus on the Middle East at present.
What came out of the film for me was the unshakeable confidence and trust in God the Pastors showed. Also the determined perseverance they had.   Yet in the midst of the horror there was that glimmer of hope which helped them greatly.  Gloria Davidson
There followed prayer for those places the world known and named by us where persecution is taking place. We sang very quietly some familiar worship songs and included silent verses – we did not want to be overheard… We shared The Peace in Arabic and English, stood in pairs and silently prayed for one another. In this way persecuted Christians can pray for each other without being identified. This felt profoundly moving to do.
Suddenly there was deafening and shocking loud banging on the barn doors and a shouted threat. 'We know you're in there. Come out.' Fear, silence, lights out. 'We know you're in there. We'll be back with a warrant to arrest you.' We sat silent for a short while and began again in whispers.
We ended our time together with more prayer and closed with The Grace which we said to each other with our eyes open. Lastly, to encourage others without identifying ourselves openly, a photograph of our feet was taken.
Liz Turner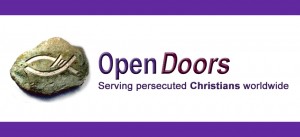 Open Doors stands with the persecuted church in all sorts of ways. If you would like to find out more Sylvia Ruxton will be happy to tell you how. Try the Open Doors website or read 'God's Smuggler' by Brother Andrew which tells the true story of his support of the church behind the Iron Curtain during the 1950s to 1980s before communism began to collapse. This book is a real faith builder.
Recommended Posts
December 07, 2023
December 07, 2023
December 05, 2023