---
Shoe Shining at Easter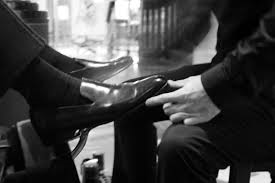 As part of our roles as Evangelism Enablers, we are organising a shoe shine, in the town centre, on Saturday the 4th April (the day before Easter Day). It's going to take place between 10am and noon, on Pride Hill (there will also be a parallel one in Telford). Bishop Mark will be attending, and we've already got a few people from other churches coming along, but if you'd like to join in for some or all of the time, that would be amazing.
The idea is that in offering to shine people's shoes we are remembering Jesus washing the disciples' feet shortly before his death, and enacting our call to serve others in humility and love. We hope that this will speak something of the gospel message into the lives of Saturday shoppers, bless their day and encourage them to think more about the Easter message.
We're also planning to provide a little take-away card for them, on the back of which we will write down the Easter Day service time for their nearest (Anglican) church. We're hoping that church members will feel welcome to come and join in- do please feel free to invite others, particularly if they are natural evangelists- part of our remit as a team is to encourage and provide opportunities for those with evangelistic gifts and to put them in touch with like-minded brothers and sisters in Christ across the episcopal area.
Thanks so much- please do let Fi, Gordon or Hannah know if you will be attending, and do specify a time slot if you'd prefer not to do the whole two hours.
Recommended Posts
September 22, 2023
September 22, 2023
September 15, 2023