---
'Thy Kingdom Come' Pentecost Prayer Walk
On Pentecost Sunday a group of us from the 1045am service at Holy Trinity walked out of the church before the service ended – including the vicar!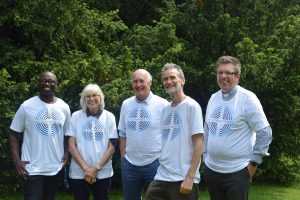 Emblazoned with the logo 'Thy Kingdom Come' we spent the rest of the day walking through the estates, busy roads, lanes and fields of Shropshire, headed for Telford. Others joined us along the way from Trinity Churches and other local congregations, including the Bishop of Lichfield, and we prayed at various points along the way, asking for God's Kingdom to come here in our county, bringing fulfilment, health, healing of divisions and good relationships.
Several miles later, we ended up in Wellington at a service attended by hundreds from around Telford and Shropshire, kindly hosted by the House of Prayer (above Wellington market) where Kate Coleman spoke of the way that Christians can be leaders for good in their own community.
Everything was bursting with life that day: hawthorn, skylarks, even the nettles and that seemed to infuse conversations as we prayed 'Thy Kingdom Come'.
Recommended Posts
December 07, 2023
December 07, 2023
December 05, 2023