---
Kingdom Come – Trinity Churches Parish Weekend in Wales 2014
A great place to come for teaching, fellowship and fun for everyone at Trinity Churches, whatever your age or congregation. So can we encourage you to get yourself booked for what will be a fantastic weekend in June as, once again, Trinity Churches goes to Wales for our bi-annaul parish wide church weekend away. To download a booking form – and find latest news – then please click here, or download the 2014 Church Weekend Away application form. 
From 13 – 15 June 2014 people from all ages and all congregations will decamp to Cefn Lea, a purpose built Christian conference centre, set in beautiful surroundings in the Welsh borders yet only an hour from Shrewsbury.
Why go?
100% of those completing feedback sheets from the last weekend in 2012 said they would like to come again and everyone also said they would recommend others to go.  If that is not encouragement enough can we mention a variety of high quality accommodation, good teaching, excellent food, a chance to be church together, the (in)famous ministry of fun and even staying up late to watch England in their first World Cup football match?
 A few frequently asked questions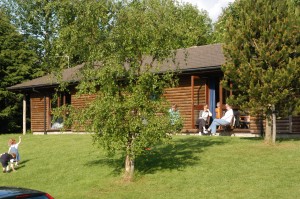 What is the accommodation like?
Cefn Lea has everything from newly built high quality chalets with en suite facilities through to a camping ground where you can bring your own caravan, campervan or tent (with electrical hook up) – there is something to suit every taste and budget. 
Will I have to share a room?
For some, sharing is part of the fun of a weekend away, but if you would prefer your own room, we can arrange this (although there will be an additional supplement to pay).  We will work really hard to meet any accommodation request, just let us know.
What will the weekend involve? 
As well as some teaching sessions, there will be worship, workshops and plenty of time to relax and chat.  Cefn Lea is surrounded by beautiful countryside and has great facilities including indoor and outdoor play parks and a golf course.
We plan a full programme for children and young people and there will also be a crèche provided during the teaching sessions.  Cefn Lea is a safe and fun environment which your children will love.
We're delighted that Alasdair Macleod is going to be our speaker. Alasdair is the lead pastor of Billericay Baptist Church, and an 'associate' of the London Institute for Contemporary Christianity (www.licc.org.uk). He worked as a buyer for Nissan Europe in his twenties and after studying at the London School of Theology went on to lead a church in Watford. His wife Alison works as an A&E doctor and they have two young children. Music and sports are a big feature of family life.
How much will it cost? 

That depends both on the type of accommodation you choose and whether you take advantage of the early bird discount. The booking leaflet has full details, but we are confident the weekend offers excellent value for two nights full board in a beautiful part of the UK.  In addition, there are reduced prices for children and young people, with very small children coming free.
 To find out more about Cefn Lea click here
Recommended Posts
November 23, 2023
November 23, 2023
November 23, 2023