---
Weekly Email w/b 13th March 2023
This last few weeks quite a few of us have been using the "Dust and Glory" resources, available in the booklets / apps / smart speakers etc as well as at Six o'clock live. I wonder how you've found our journey so far.
This next week we're going to be thinking about how "the church" might be part of this story of being both beautiful and broken. Yes, hopefully a place of love, worship and community, for us here at Trinity expressed by people a people who are "growing faith, proclaiming hope and living the love of Jesus." Sadly at times however we see our brokenness too, where church becomes one of division, failures and frustration. I know that's my experience, and I'm sorry for where, at a local level, it might have been your experience as well.
As you read the rest of this email let me invite you to join with us in praying for the church – God's church – which is beautiful and broken. Come to the welcome event coming up next week, or develop friendships at the Women's event. Join us for one of the two remaining Lent events, or sign up for the prayer "watching and waiting" prayer taking place as we enter Easter Day.
The booklet prayer for next week – for children and families – is a useful reminder of what to pray and how to live. Lord, we thank you for the people who make up the family of the Church. Help us all to be signs of your love for the whole world. Amen.
Phil Cansdale (Vicar)
This Sunday we're meeting as usual across the four congregations at Trinity, as well as continuing to serve our neighbouring parish of Belle Vue. Dave Latcham will be speaking at the 9am and 11am gatherings, whilst Shirley Stevens and Alex Aldous will be speaking at CTK and HTBV respectively. Judith Drury is our speaker at the evening congregation as we continue a new series on "whole-life worship".
It's Mothering Sunday this weekend, and so 'watch this space' for something small and edible as a way of saying 'thankyou' to the amazing gift of each and every woman who is part of God's amazing family here at Trinity.

This Lent we're taking a fresh look at the struggles and mistakes that every day brings. We'll be thinking about some of the frustrations and failings that every day brings, and rather than pretending that we can always avoid them, we'll seek to learn from them and grow closer to God through them.
You'll find details – and sign-ups where needed – of each of these on our website at www.trinitychurches.org/lent. To pick up on the next couple of weeks:

Lent Experience

for children and families takes place on Sunday 26th March at Holy Trinity Church. See separate invites which have gone out.

Lent Worship Evening.

For musicians from across the congregations. We'll be learning some new songs, 'polishing' some old songs, and thinking how best to worship and work together. Wednesday 29th March, 7.30pm – 9.30pm at Holy Trinity Church.
Then we begin to get near Holy Week and Easter events. Take a look in Trinity Life for more details, or the graphics below. More details – and RSVP for Maundy Thursday meal and Prayer time – on website next week.
Find out more about Lent events – and RSVP for each of these


You'll find on our website outline details of what's taking place for Holy Week and Easter this year. In particular:
Palm Sunday (2nd April)
Services across the parish, as well as a 3pm Service of Remembering
Monday to Wednesday Holy Week (3rd to 5th April)
6 o'clock live as usual
Maundy Thursday (6th April)
4pm to 5pm. Meal for children and families
7pm to 9pm. Evening meal and worship (Belle Vue Church) RSVP
Good Friday (7th April)
9.30am Good Friday All-age worship (Meole Brace Church)
9.30am Good Friday Gathering (Christ the King)
2pm to 3pm. House at the Cross (Meole Brace Church)
3pm Good Friday till 6am Easter Day is "Watching and Waiting." Sign up for an hour (or more) of prayer, daytimes (9am to 9pm) at Holy Trinity Church, nights (9pm to 9am) at home. More details and sign up on website www.trinitychurches.org/easterprayer
Easter Day (9th April)
6.30am Easter Morning Service (Meole Brace Gardens)
9am Easter Day Gathering (Holy Trinity Church)
1030am Easter Day Gathering (Christ the King)
11am Easter Day Gathering with baptisms (Holy Trinity Church)
6.30pm Easter Day Evening Celebration (Trinity Centre)
You'll find more details of all of these on our website.
Sign up for "Watching and Waiting" Prayer
We announced last week that Craig Silcock will be stepping back from his role as Youth Minister at Trinity Churches. He's accepted a role with a local Building Society, and this will give him an opportunity to live out his passion for ethical banking, particularly how banking can "benefit both people and the planet." They're looking to stay in the area as a family.
Craig will be finishing at Easter after five years in the role, and we will obviously be finding ways to say 'thank you' and 'goodbye' to Craig as he leaves the team. And conversations are now underway about how to maintain and support youth ministry here at Trinity, both short-term and longer-term. There is a wonderful team of others involved in areas of this work, and as a PCC and ministry team we will be finding ways to support them and others as we seek to make the transition into a new season for youth ministry here. If you have any questions – or particular ideas for how this transition might best happen – then do please talk to one of the existing youth team, or Phil and Fi.

An event for those who are new – or still feeling new – at Trinity.
It's been great to be connecting up with various new people during these last few months. On Thursday 23rd March in Cafe Connect we'll start at 7.30pm, and over coffee, cake and similar we'll have some time together to get to know each other better, meet some of the team here at Trinity, and to hear something about the wider life of the church.
Let us know please you're coming, and we'll start ordering the cakes! We look forward to you being with us.
Let us know you're coming to the next Welcome event
We're really looking forward to an evening for Trinity Women, meeting on Friday 24th March 7pm in Alaturka Turkish restaurant on Wyle Cop. A chance to enjoy a really great meal together – mezze, mixed grill, desserts, Turkish tea – and to build a sense of fellowship, faith and fun. Tickets £15.50 available online via our website, or from the Church Office. Or speak to one of the team hopefully walking around with clipboards after the service.
More details and let us know you're coming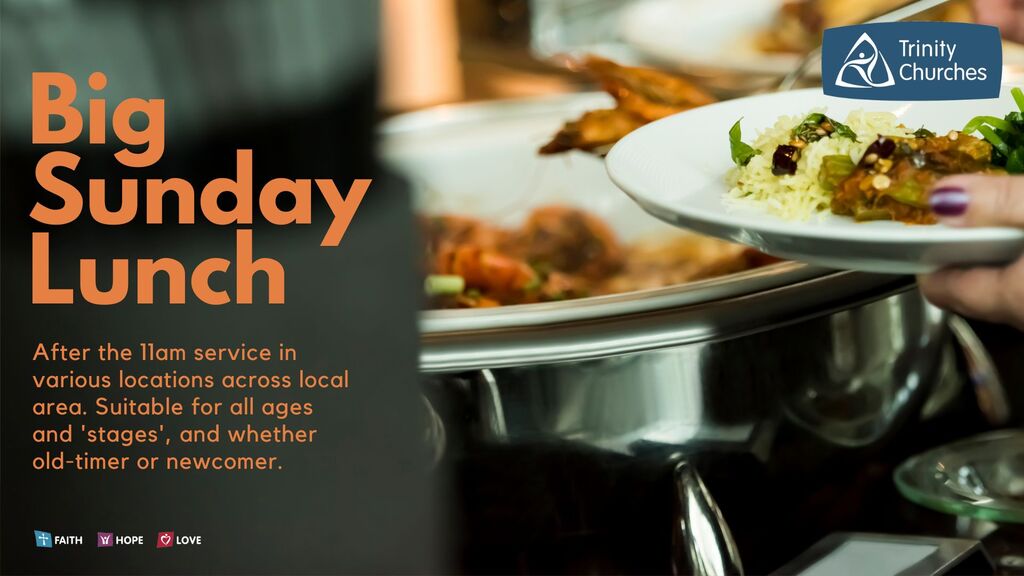 Want to join a group who get together every couple of months to share a meal and "do life" together?
Our next Big Sunday Lunch takes place on Sunday 26th March. Suitable for all ages and 'stages', and whether old-timer or newcomer, you'd be very welcome. For those already in a group then details should be winging their way to you over the next few days. And if you'd like to join a group – and make the most of opportunities of getting to know other people at Trinity – then let us know and we'll find some space around a Sunday lunch table near you!
Let us know you'd like to come
Could you be part of a really great team who help keep our churchyard a beautiful place throughout these next months, and part of our welcome and hospitality at the heart of the local community?
The churchyard grass-cutting season is approaching. We work in pairs, and every five weeks or so the role takes about two hours. It's very flexible, people can swap and work round holidays easily, and there's no specific day or time for mowing.
For more info please chat to Andy Digby on a Sunday, or contact the Church Office and they will pass your details onto him and the team.
And finally…. our latest copy of "Trinity Life" is now out. You'll find further details of Lent and Easter events, as well as a sneak-preview to a few May gatherings like the King's Coronation and REVS. You'll also find readings etc for March and April, and a sense of a few of the different things taking place in our shared life here at Trinity.
Recommended Posts
September 22, 2023
September 22, 2023
September 15, 2023