---
Weekly Email. w/b 8th February 2021
This morning our children were doing their home-schooling – they were learning all about firefighters and the important work they do for us, often behind the scenes. A reminder of the wonderful work so many people do behind the scenes to support us and keep us well everyday. I am truly grateful to the Key workers who have battled on during this Pandemic providing what we need when we need it.
This reminds me of part of the Lord's prayer – 'Give us today our daily bread' – a nod back to the time spent by the Israelites in the wilderness following the Exodus, where God provided literal daily bread; as well as Jesus' time spent in the desert and the time we now know as 'lent'. As we begin lent next week, I wonder what our daily bread will be in the coming days and nights? God knows what we need.
Craig Silcock
Youth & Young Adult Minister
This Lent discover simple and practical ways of telling the story of Jesus. Join a small group of others in engaging with the book, or grab a copy and read it yourself. Then there are THREE things to do from there each week of Lent:
WATCH a short video each week by Hannah, the author, who will be unpacking a bit more about that particular chapter and the theme that goes with it.
READ a chapter of the book – each one about 25 pages. It's really accessible and very engaging.
DISCUSS with other people. We're wanting to set up a book group or two who could meet online each week, and have a conversation around the three questions at the end of each chapter. Or if you're in a small group already you might like to include that as part of your ongoing life.
There's never been a more important time to be looking out as a church, and we look forward to you being part of the conversation around "Living his Story." .
Sign up today – and get hold of a copy of the book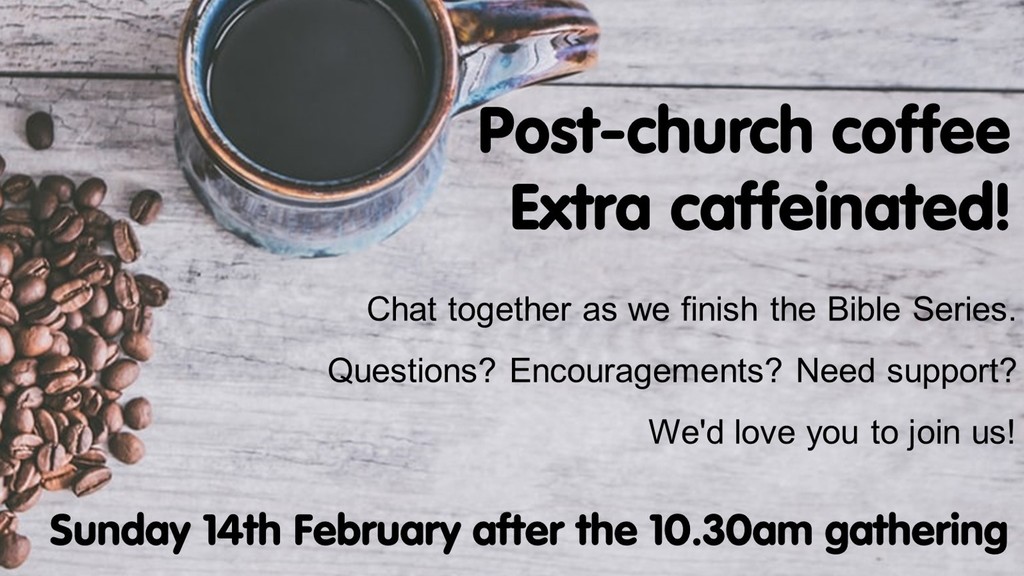 A reminder of our regular Sunday gatherings this Sunday. 9.30am is Pyjama Church, and then 10.30am is our mid-morning gathering. Phone Church 'goes live' by 9am each Sunday morning as well, accessible via local-rate-number 01743 298249. On top of that are various youth and children meet-ups.
This Sunday we're also offering some "extra caffeine" after our mid morning gathering. As our Bible Series draws to an end, we'll have a chance to chat about the 'big story of the Bible' over a cup of coffee, to be asking questions, going a bit deeper, and learning together. There's an amazing community who have become part of online coffee over the last few months, so whether you're an old-timer or a first-timer we would love you to join us. It will begin on ZOOM after the 10.30am service finishes, normally 11.30am or so. Please stay for as long or as short as you would like.
Alongside Sunday gatherings, midweek meet-ups, small groups etc, there are two resources which we hope you'll find a gift over Lent 2021.
TIME FOR GOD. A booklet with some simple prayers and readings from the Bible. Full of inspiring pictures and We've designed this particularly to give away to people who might appreciate some short encouragements in prayer and scripture. You can pick up a copy from outside Holy Trinity Church or Café Connect, or download one from the website. If you'd like us to send a copy to you, or someone you know, then do please let us know and we'll put something in the post.
WORSHIP IN THE WILDERNESS. Lent 2021. We're just putting finishing touches to a new resource which will sit alongside our Sunday services during Lent. Life in Lockdown feels pretty much like a wilderness at the moment. The Bible is full of characters who have transformational encounters with God in the desert places. They learn there what perhaps they can't learn elsewhere, and find a God who can bring life and hope even in the dry places. Here we learn struggle, simplicity, a growing trust, and the faithfulness of Jesus in testing times. How might God be calling us to "worship in the wilderness" over Lent and beyond?
Download a copy of the new "Time to pray" booklet
Join us on Facebook for six o'clock live
Every Thursday we continue to distribute food bags on the Meole Brace Estate and further afield. We are also able to help with food shopping for those who are struggling financially at this time. If you could use a food bag or need help with grocery shopping, please do get in touch with Keith Moore on: 07512135584.
Let us know how we can support you
These are tough days for many people, and lots of us find ourselves in need of help and support. As a local church we pray regularly for the local community we serve, and we would love to pray for you, your family or friends. Do please let us know what we might be praying for you, or make this link available to others as appropriate.
Recommended Posts
December 07, 2023
December 07, 2023
December 05, 2023